Autobiography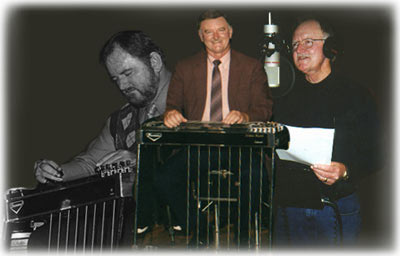 I was born and raised in Jayton, Texas. A little town with a population of about 500. Jayton is about 100 miles east of Lubbock. I was fascinated by music as far back as I can remember.
Tex, my older brother by 12 years, had a steel guitar and was taking lessons in Lubbock where he lived. I was about 8 years old when he went into the Air Force. He brought his single neck and amp and left it at home for safekeeping. I started trying to play it just by going by the music he left and got to where I could play fairly decent. Eventually, some other fellows in Jayton were learning to pick and I would go over and pick with them. We'd sit for hours and make those little plastic records. The machine was a rec-o-cut. When I was 13 some boys from out of town came by and wanted me to pick with them on the radio in Stanford, Texas. They had a 30 min. show on Saturday. I thought I had hit the big time! We would pick at a few school functions around the area. The group was Henley Diggs and The Double Mountain Boys. I was also learning to play regular guitar, rhythm and a little bit of lead.
I got to know a fellow named Ben Hall, I would go to Breckenridge, Texas and pick with him. He moved to Lubbock and was a DJ there. I'd go up there to visit and got to know Buddy Holly, Sonny Curtis and Johnny Duncan. Grand Ole Opry shows would come through and I'd get to pick on some of those. I also worked with Bill Mack in Wichita Falls, Texas on his television show in 1955.
My first trip to Nashville was in the early 50's. Waylon Jennings and I picked with a young girl, Hope Griffith, who had a television show in Lubbock. She came to Nashville to cut a demo and I got to do that with her.
I graduated from Girard High School in 1956 and moved to Big Spring, Texas. Ben Hall and his wife, Dena lived there then and had a television show that I picked on. Ben had a little studio and we'd cut tapes. We had started to write some songs and got several placed with Cliffy Stone at Central Songs. We came to Nashville in 1958 to record for Captiol Records and Ken Nelson as the Ben Hall Trio.
I also was on the Police Force in Big Spring, Texas. In 1963 I loaded up my wife, Kitty, two kids, Terri and Robert, and headed to Nashville.
My first job was with Pap Wilson, a comedian. I was with him several months. I was also going to the Opry to see if anyone would let me pick with them. (that was the days of the open door policy at the Opry) Bill Anderson was forming a band and asked to hear me play and he hired me. So that led to recording with Bill and also this girl singer that Bill had found, Connie Smith. Bob Ferguson was the producer on "Once a Day" and he liked steel guitar and really put the steel out front. When that song hit, I started getting calls for other sessions and my recording career took off. Connie hired me to pick in her band for a while, then I left the road to concentrate on recording. I went to visit the Opry. Hal Rugg was the only regular steel player at that time. He told me the other steel players had quit coming in every weekend. He said, "I'd love to have some help". We talked with Ott Devine, who was the Opry Manager at the time. He said, "We'd love to have you". I was at the right place at the right time. It was a dream come true to get to pick the Opry. That gig lasted 32 years!! I retired from the Opry in February 1998. I still do some sessions and pick with some of the Opry stars when they do shows in town or on the road. I also have been traveling around the country doing steel guitar shows. My wife Judi and I got to go to Japan and Sweden to do concerts and seminars. Those were wonderful experiences!
I mentioned my first wife Kitty and children Terri and Robert earlier. After moving to Nashville we had 3 more children, Lisa, Mia and Christopher. I have 6 grandchildren, Jesse, Melody, Faith, Rainey, Shane and Taylor. Kitty and I were married 36 years before she passed away several years ago.
I was very fortunate that I got to record with all of my "heroes" over the years. (See Artist list) I accomplished more than I ever dreamed. I covered the whole spectrum of picking, writing, singing and producing. It's been a wonderful run. I could talk a lot about golfing, but that is a complete story in itself. Now if you'll excuse me, I'll just ...FORE!! Hey you..Look Out!!